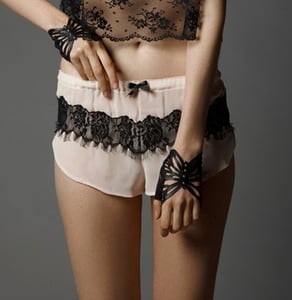 $

65.00
These tap pants are the perfect lounge shorts. The peach blush colour is contrasted with the most delicate black eyelash lace, on the front and back. With an enclosed waistband and using the softest plush elastic, theses tap pants are super comfortable to sleep in.
They also feature a tiny black bow in the front.
Each piece is made to order. Please allow 2-4 weeks for the item to be sewn and shipped.
Composition: 100% poly chiffon, trim100% nylon
Care: Please hand wash in cold water and lay flat to dry.